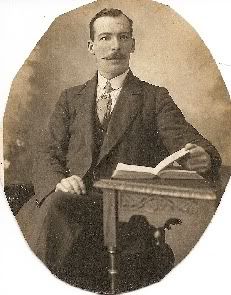 A rare interview with NZ Wobbly Percy Short, conducted by anarchist archivist and historian Max Nettlau around 1914. It was found by Jared Davidson in the Nettlau Collection at the International Institute of Social History (Amsterdam). Thanks to Urs Signer for the translation.
Note: it's not known whether Short was actually Maori by birth (his family don't believe he was), and some of the claims re Maori support for syndicalism and strikes may be exaggerated by Nettlau or Short. Nonetheless, it is still an important piece of syndicalist transnationalism and an interesting take on events.
A CONVERSATION WITH A SYNDICALIST FROM NEW ZEALAND
We had the pleasure to speak with a comrade from the antipodes who has come to Europe to get to know the syndicalist movement of the various countries.
A few weeks ago, the Auckland branch of the Industrial Workers of the World received a letter from an official syndicalist publication in Europe to gain an insight into the recent big strikes in New Zealand.
Our comrade Percy B. Short, together with another comrade, was tasked to draft a response; but because Short was on his way to England, it was decided that he would personally deliver the answers and further information and also get an insight into the European movement.
Having been a member of the Sydney I.W.W. branch for some time in the past, Short has knowledge of the whole revolutionary-syndicalist movement and we were pleased to be able to talk about both movements. Our conversation was even more interesting because our comrade is Maori by birth, the son of a native of New Zealand, the people who is more and more pushed to the side but keeps standing tall with unbelievable energy and endurance.
So that our readers can orientate themselves a little, we would like to mention that a revolutionary syndicalist publication, Direct Action, is published in Sydney (New South Wales), meanwhile the Industrial Unionist stems from Auckland. The Maoriland Worker is published in Wellington, New Zealand. The editors of that paper are comrade Harry Holland and J.B. Allen, the latter is a revolutionary syndicalist who was active in England for years.
The revolutionary trade union movement in Australia and New Zealand is organised along the lines of the constitution of the Industrial Workers of the World of the Unite States, where a vast amount of propaganda literature in the antipodes is from. Through the principle of Industrial Unionism (ie. the federation of the various industries), the syndicalist movement in Australasia and North America differs from the organisational point of view of the old trade associations.
First of all we discussed the general forecast of revolutionary syndicalist propaganda with comrade Short. We were thoroughly surprised when told that this propaganda is particularly successful amongst Maori because of the past of this people with their indigenous communism.
Amongst Maori, a worker who acts as a scab and steals the bread out of their comrades' mouths is basically unheard of because their old sense of solidarity stemming from their tribal customs prohibits such actions.
We talked at length about anti-militarist propaganda which has started over the last few years since the introduction of military service in New Zealand. Several young men, sentenced to jail, started a hunger strike, just like the Suffragettes in England now. The anti-militarist movement is still alive.
Finally, it was the trade union movement and the behavior towards the conservative organisations that interested us the most:
- Are the conservative unions, we asked, who are organised under the Arbitration Act gaining or loosing influence?
- At present, replied Short, 80,000 workers live in New Zealand. 65,000 of those are organised under the Arbitration Act and 15,000 under the labour federation act . The latter settle their disputes with the employers directly.
- And how are the strikes in your 'workers' paradise', the 'country without strikes and lock-outs', as our social reformers in Europe like to call it?
- The strikes are growing, both in terms of numbers and in intensity.
- And the law on strikes, which makes them illegal?
- The compulsory Arbitration Act has had its head smashed in New Zealand (Arbitration is killed in New Zealand).
Short explained how the national government conceals reality.

- You will probably remember the big strike of the miners in Blackball a few years ago. The government went so far as to sell the council house of the strikers who were sentenced to pay a fine. However, no one dared to buy it. Finally, the government paid for the fines under the pretext, that they were paid for by the miners – an utter lie confronted with much protest of the miners.

Until just a few weeks ago, as you will recall, we had a general strike across New Zealand, which spread to all cities and across almost all industries.
Short explained further that in Australia, where the legislation is less stringent and the attempt of reconciliation is preceded by arbitration, the situation is less tense and revolutionary syndicalism has progressed immensely.
We would have liked to continue our conversation but, as we have already mentioned, comrade Short's visit wasn't only about passing on information, but also to obtain information. Because his time was limited, we had to promise to resume talking about the European movement at a later point.
GERMAN TRANSCRIPTION
EIN GESPRÄCH MIT EINEM NEUSEELÄNDISCHEM SYNDIKALISTEN.
Wir hatten das Vergnügen mit einem Genossen von den Antipoden zu sprechen, der nach Europa gekommen ist um die syndikalistische Bewegung der verschiedenen Länder kennen zu lernen.
Vor einigen Wochen erhielten die Industrial Workers of the World der Sektion Auckland ein Schreiben vom Herausgeber eines offiziellen syndikalistischen Organes in Europa, um Auskunft über die letzten grossen Streiks in Neuseeland [zu erhalten].
Unser Genosse Percy B. Short wurde mit einem anderen Genossen beauftragt, die Antwort zu redigieren; da aber Short nach England reiste, wurde er ersucht, persönlich die Antwort und alle ferneren Auskünfte [zu] überbringen, um seinerseits auch über die europäische Bewegung Erkundigungen einzuziehen.
Da Short auch einige Zeit Mitglied der Sektion der I.W.W. in Sydney war, und also die ganze revolutionär-syndikalistische Bewegung kennt, waren wir sehr erfreut über beide Bewegungen mit ihm sprechen zu können. Unsere Unterhaltung war desto interessanter, weil unser Genosse von Geburt ein Maori ist, ein Sohn der Einborlinge [sic] Neuseelands, des Volkes das immer mehr von den Blanken verdrungen wird, sich aber mit unglaublicher Energie und Ausdauer aufrecht erhält.
Um unsere Leser einigermassen zu orientieren, bemerken wir an erster Stelle dass in Sydney (Neu Süd-Wales) ein revolutionär syndikalistisches Organ besteht, Direct Action, während in Auckland der Industrial Unionist erscheint. Ferner wird in Wellington, Neuseeland, der Maoriland Worker herausgegeben. Die Redakteure dieses Blattes sind die Genossen Harry Holland und J.B. Allen, der letztere ein revolutionärer Syndikalist, der in England Jahrelang tätig war.
Die revolutionäre Gewerkschaftsbewegung in Australien und Neuseeland ist ganz nach dem Muster und mit den Statuten der Industrial Workers of the World der Vereinigten Staaten organisiert und unsere Antipoden verdanken den selben auch einen betrachtlichen Teil ihrer Propagandaliteratur. Durch das Prinzip des Industrial Unionism d.h. der Föderation nach Industrien, unterscheidet die syndikalistische Bewegung in Australasien sich ebenso wie in Nord-Amerika vom organisatorischem Standpunkt aus von den alten Berufsvereinen.
Wir haben uns allererst mit Genosse Short unterhalten über die allgemeinen Voraussichten der revolutionär-syndikalistischen Propaganda und mit einer wahren Überraschung hörten wir dabei, dass ganz besonders unter den Maoris diese Propaganda durch die Vergangenheit der Bevölkerung mit ihrem Urkommunismus begünstigt wird.
Unter den Maoris scheint ein Arbeiter der als Streikbrecher seinen Kameraden das Brot aus dem Munde nimmt, so gut wie ein unbekanntes Wesen zu sein, dessen bestehen schon durch das alte Solidaritätsgefühl in den Volkssitten ausgeschlossen ist.
Lang sprachen wir weiter über die anti-militaristische Propaganda, welche in den letzten Jahren seit der Einführung des Militärdienstes in Neuseeland angefangen hat. Verschiedene junge Burschen, zum Gefängnis verurteilt, begangen den Hungerstreik, gerade wie es jetzt auch die Suffragets in England machen. Die anti-militaristische Bewegung dauert noch stets weiter.
Schliesslich war es die Gewerkschaftsbewegung und zwar das Verhalten zu den konservativen Verbänden, das uns am Meisten interessierte:
- Sind die konservativen Gewerkschaften, so fragten wir, diejenigen eben, die unters Gesetz auf den verpflichteten Schiedsspruch organisiert sind, im Fortschritt begriffen, oder büssen sie vielmehr an Einfluss ein?
- Augenblicklich, antwortete Short uns, gibt es auf den 80000 Arbeitern, die in Neuseeland leben, 65000, die unter dem Arbitration-Act organisiert sind, während 15000 unter einem anderen Gesetz sind, das auf der Arbeitsföderation; letztere regeln ihre Streitigkeiten mit den Unternehmern direkt.
- Und wie geht es mit den Streiks in ihrem Lande dem 'Arbeiterparadies', dem 'Lande ohne Streiks und Aussperrungen', wie unsere Sozialreformer in Europa es so gerne nennen?
- Die Streiks nehmen immer mehr zu in Anzahl und in Intensität.
- Und das Gesetz auf die Streiks, wodurch dieselben verboten sind?
- Das Gesetz den Verpflichteten Schiedsspruch ist den Kopf eingedrückt in Neuseeland (Arbitration is killed in New Zealand).
Und Short setzte uns auseinander, wie die Landesregierung es macht, um die wahre Lage zu verbergen.
- Sie werden sich wohl, schon vor einigen Jahren her, [an] den grossen Streik der Bergarbeiter in Blackball erinnern. Die Regierung ist dabei soweit gegangen, den Hausrat der zu Geldbusse verurteilten Streiker verkaufen zu lassen; Niemand wagte es aber davon zu kaufen. Schliesslich bezahlte die Regierung nun selbst die Geldbussen, unter Vorgeben, dieselben seien von den verurteilten Bergarbeitern selbst bezahlt, eine Lüge wogegen Letztere laut ihren Protest erhoben.

Noch vor wenigen Wochen, wie sie sich gewiss erinnern, haben wir noch einen Generalstreik in Neuseeland gehabt, der sich über alle Städte und über fast alle Arbeitskategorien ausdehnte."
Short setzte uns weiter auseinander, wie in Australien, wo die Gesetzgebung weniger streng ist und wo der Versuch zur Versöhnung der Schiedsrechtsspruch vorausgeht, der Zustand nicht so gespannen ist und der revolutionäre Syndikalismus auch dort grosse Fortschritte macht.
Gerne hätten wir das Gespräch noch fortgesetzt, aber wie wir schon sagten, was Genosse Short nicht allein gekommen um Auskunft zu geben, sondern auch um Auskunft zu holen, und das seine Zeit bemessen ist, haben wir versprechen müssen, das Gespräch wohl wieder aufzunehmen, aber um diesmal  über die europäische Bewegung zu sprechen.